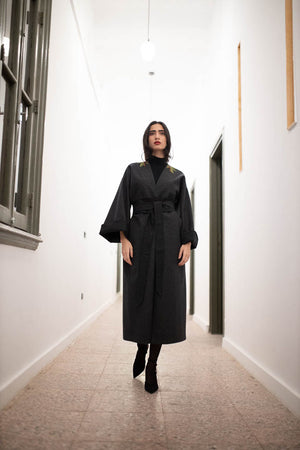 Piper Black Coat
Sale price Price LE 8,450.00 Regular price Unit price / per
Tax included.
Shipping
calculated at checkout.
The Piper Black Coat is our reference to the tenacious peppercorn. Rameses II, who died in 1213BC, was buried with peppercorns inserted in each nostril. Again, peppercorns are native only to the Spice Islands indicating trade between Asia and the Mediterranean via the Middle East was already well established a long time ago.
The coat comes with a loosely fitted maxi cut, oversized sleeves and belt. It can be worn loose and open without the belt or wrapped around using the kimono built for a more refined/evening look. The shoulders are intricately hand-embroidered with our own interpretation of the peppercorn plant with the multicoloured peppercorn seeds.
Description: Kimono cut maxi black coat with back slit, comes with a matching belt and it has cotton perlé multi-coloured hand-embroidery on shoulders

Fit: Oversized

Material: Wool (80% wool, 20% acrylic) w/ satin lining

Garment Care: Dry clean only

Model height: 170cm, wearing size S/M